Discover more from leap.club blog
a network built only for women.
Over 84,000 subscribers
If you follow vc twitter, you must have come across a thousand tweets on clubhouse in the past week. We are not sure what the hype is all about so let's focus on what's been happening at the (soon to be) most powerful club in India - leap.club. For those of you who are reading about us for the first time, here is why we exist and what we do -
We are reimagining a professional network. We believe future networks will be paid, private, community-led, will focus on growth and not on the # of connections or what you have done in the past. 

We focus on women and are building a powerful private network of rising women leaders.

We recently started on-boarding our founding members in Delhi NCR and are oversubscribed. We will open up more slots and work through our waitlist. 4000+ women have already signed up to join the mission. 

We got featured in YourStory last week. Read the article here.
---
Month 1
We started working on leap in December 2019 and spent the first few weeks refining the benefits for members. We had built a large subscription business before and were aware of how tough it is to get users to subscribe to a new product. We spoke to a lot of people to understand what they are looking for in a professional platform. Points that stood out - better networking, forging real relationships, coaching, up-skilling, wellness and therapy, more intimate access to industry icons. We thought these were great points and shaped leap benefits around them. 
---
Month 2
Sometime in late Jan, we made a 1 pager website live to check if leap is needed in this world at all. The feedback couldn't have been more overwhelming. We knew we were heading in the right direction. Here's some feedback that pushed us to work harder.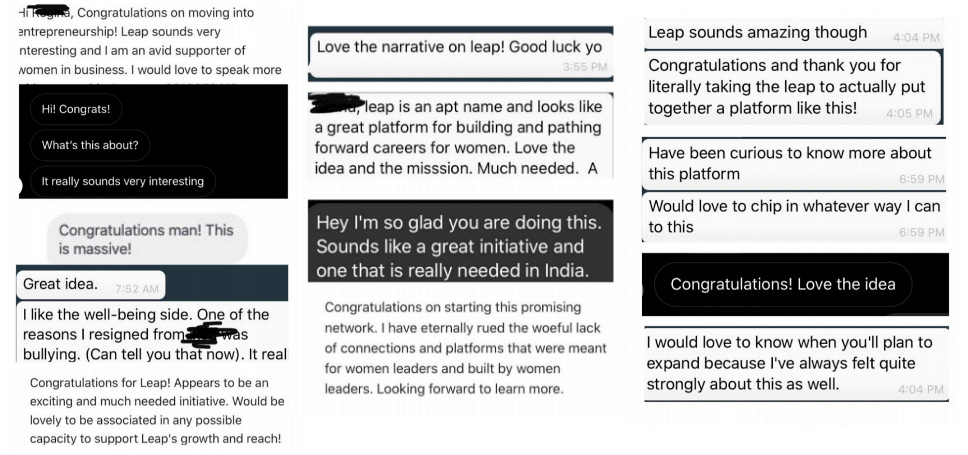 ---
Month 3
Our waitlist numbers kept going up and the time had come to start talking to potential members. We decided to do a beta launch with 30 founding members in Delhi NCR. This was probably the toughest time for us since we started leap. It was the time to test our early beliefs and get members to trust us and pay. Once again, the response was something that we never imagined. We have 30 absolute powerhouses as our founding members, everyone believing in us and wanting to build leap with us. Here is a snapshot of our founding members and a few testimonials.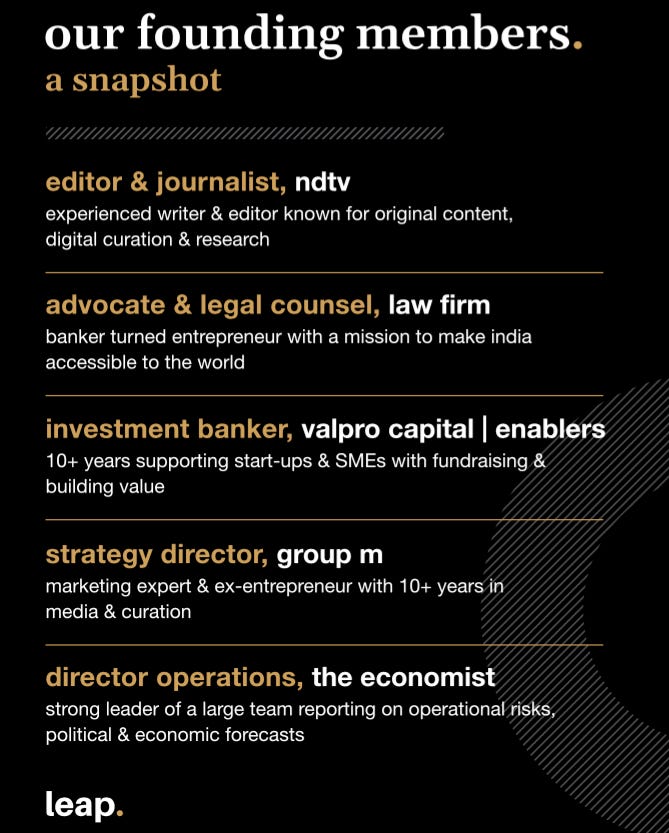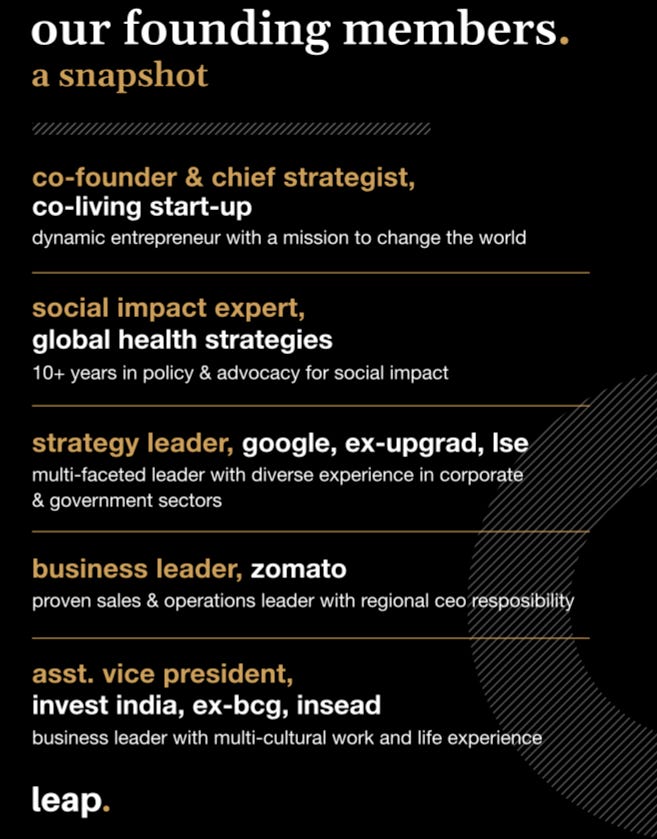 "It was only when I had more women around me at work that I began to realise how infectious & addictive the feminine energy is! I've seen the magic happen when women come together and that's what excites me about leap :)"

"We spend a major part of our lives cultivating friendships and personal relationships. But when it comes to our career, we leave it to chance, why? Seldom do we proactively build our professional tribe and our 'circle of trust', one that can help navigate the choppy waters of our career path with empathy and relatability. Time to make that change with leap!"
---
Month 4  - The launch 
We launched on 1st of May for our founding members and are currently a web platform. We will keep shipping new features to make the experience more seamless and engaging.
We started off with an introductory session and the energy was crazy. These women had never met each other before and we were worried about how things will go on Zoom. Here's what they had to say (yes, we are screenshot hoarders) -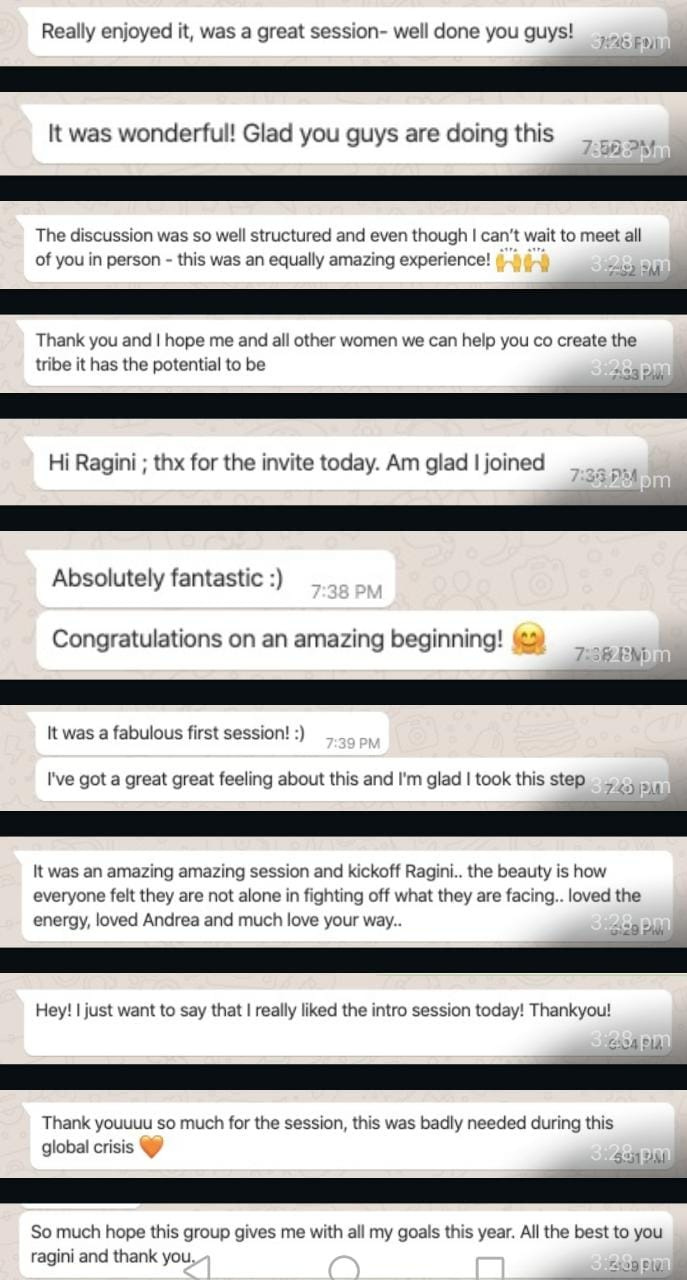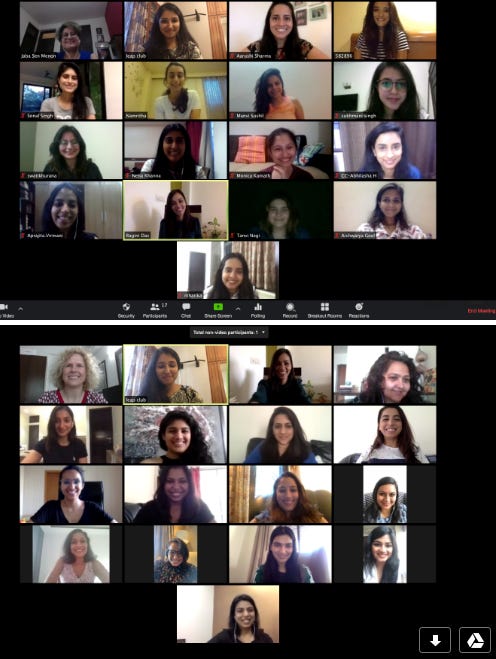 We thank all our founding members for trusting us and couldn't be more excited to build leap - professional network 2.0. Our mission is simple - more women in leadership positions, and we are heading in the right direction. We will change lanes a few times, but will keep driving. Here's a small example of the love that keeps us going.
The revolution has begun. Join us at leap.club 
---
Written by - Anand Sinha