Discover more from leap.club blog
a network built only for women.
Over 84,000 subscribers
Taking control of your own career growth
The world needs more leaders and role models and at leap.club we are working hard to make customized, on-demand tools and resources available to our members that help them supercharge their professional growth and live their best professional life.
We are a paid membership that gives you access to a private professional network, handpicked executive coaches & wellness professionals, a tonne of curated content, intimate masterclasses and workshops, and a lot more. In the last 3 months, we have grown to 300+ founding members across Delhi, Bangalore, and Bombay. Memberships are currently sold out, but you can join the waitlist on our website leap.club. We offer memberships to women only. 
Amazing success stories come out every day. Here's one that was shared just last week.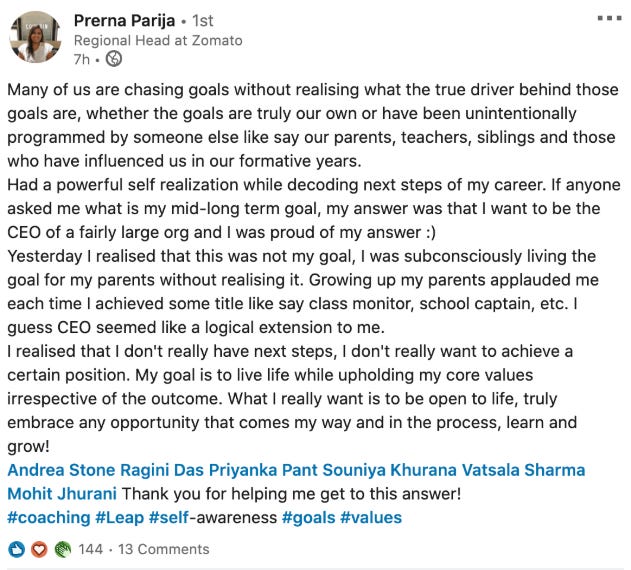 Organizations spent nearly $400 billion globally on training in 2019. Let that amount sink in. We surveyed our members (and non-members) to find out if their organizations do enough when it comes to L&D and the average rating by 100+ respondents was 4.3 out of 10. Yes, let that sink in too.
We also read a lot of reports which echoed the same sentiments -
75% of 1,500 managers surveyed were dissatisfied with their company's learning & development function;

70% of employees report that they don't have mastery of the skills needed to do their jobs;

Only 12% of employees apply new skills learned in company organized L&D programs to their jobs;

Only 25% of respondents to a recent McKinsey survey believe that company organized training measurably improved performance.
Not only is the majority of training in today's companies ineffective, but the purpose, timing, and content are flawed. We are hungry to learn new skills and grow fast but, unfortunately, the L&D teams chase flawed KPIs.   
At leap.club, we've spent some time breaking down the flaws in the process to accurately identify what doesn't work and a practical way forward.
We're learning at the wrong time - we often learn uniform topics at a time when it bears little immediate relevance to our role. We need to learn when we can apply those learnings.
We're learning the wrong things - organizing a 'conflict resolution', or a 'yoga' session for wellness does not help. The 'one size fits all' approach does not work. Our careers, aspirations, personalities, strengths and weaknesses are different.
We have to learn the hard things - give feedback to our boss, work on our brand, learn how to self promote, how to not feel guilty for prioritizing work, find our purpose, pivot in our careers, negotiate higher salaries, build and leverage a network, and a lot more.
We forget what we've learned so we have to be at it continuously - we have to adapt to changing circumstances rapidly and always be learning. This can't be a once in a year event. Needs a 24/7 or an on-demand approach.
What we need -
We select topics that are relevant to us and want to learn more on. Easy 24/7 access.

Apply it to real-world situations immediately.

Receive immediate feedback and refine our understanding.

Repeat.
leap.club is working on exciting new products to address this gap which we will address in greater detail in our upcoming blog. 
If you agree, then become a member and start investing in your career. You didn't come this far to only come this far.