Discover more from leap.club blog
a network built only for women.
Over 84,000 subscribers
Is leap.club for me?
When we started working on leap.club 5 months back, we were losing sleep over building a network with paid memberships from day 1. A network's biggest asset is its members – both quality and quantity. And while we wanted to build a relevant and private network, getting early adopters to pay for a new product, was going to be a challenge. We made some mental assumptions on who will take a bet on us and kickstarted memberships starting the 1st of May this year. If you're keen to know more about our journey while starting up, read our last post. 
In 5 weeks, we have 75 solid leaders across industries who have taken the 'leap of faith' and the waitlist is through the roof with 5000+ amazing women who are waiting to join the mission. (we are ramping up our onboarding team – jobs@leap.club). 
'Is leap.club for me' / 'will I fit in' is a question we often come across, so we wanted to share why it might just be -
18% of our members come with 3-6 years of experience. We call them 'young leaders', and since these spots are limited, they're the first ones to get taken! The energy these women bring to the room truly keeps us on our toes.


26% of our members have 6-9 years of experience and 33% have 9-12 years. Decoding the next steps of one's career is important to this cohort, and we always knew this was our sweetest spot.


23% of our members come with more than 12 years of experience, and it's amazing to see their drive and ambition to keep killing it, and not 'drop off the ladder'. Women with more than 18-20 years also join our mission and the drive of other young leaders is what they thrive on :)


These members represent diverse industries and you can connect with leaders from all backgrounds.


Build an inner network, become a better leader, grow professionally and find mentors, investors, co-founders, business leads are some of the reasons why members join us.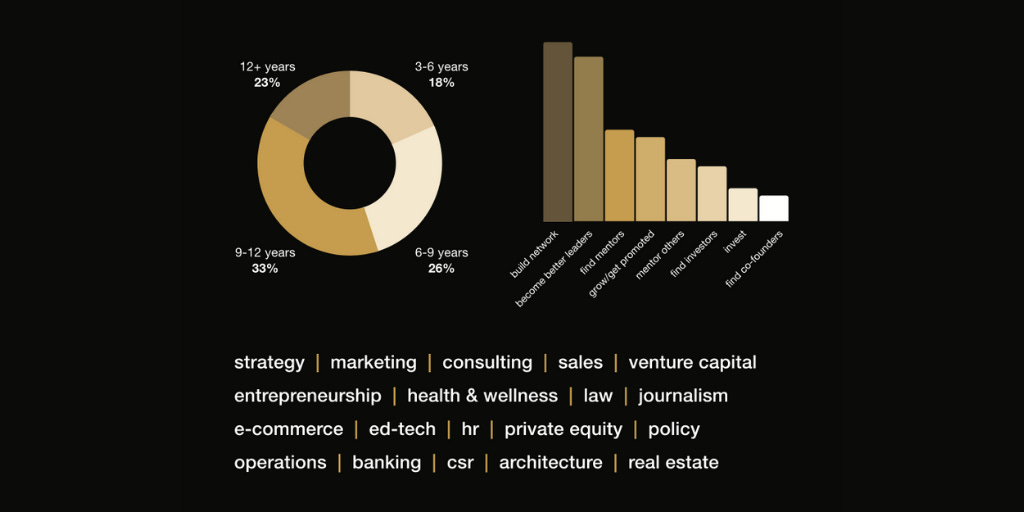 Magic truly happens when diverse, powerful women come together, and we witness this magic happen at leap.club every day.
The most used benefit on the platform so far has been therapy. Our members have rated their experience 9.1 on an average. We are glad that we are able to help our members, especially in these exceptional times.


Our coaching sessions have been rated an 8.3 and members are excited about the potential that professional coaching can have on their careers.


38 members have already used superconnections and are especially liking the ease with which they can grow their inner network. In fact, one member who is an early-stage entrepreneur has already met a potential co-founder.
We are confident that several such stories will emerge over the next few months. Virtual coffee is not so bad after all and meeting a new friendly face in this time works like a charm! If you are a rising woman leader, join the revolution at leap.club– there's so much to do! 
Always 1% done.